Building projects in parts of Sydney and across NSW will be accelerated through local council planning processes, under a state government push to create jobs and salve the financial impact of the coronavirus crisis.
The Berejiklian government will help local councils develop programs to allow them to make planning decisions for housing and construction projects more quickly.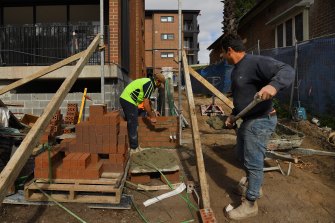 Planning Minister Rob Stokes said the scheme will mirror a similar program already adopted by the state government.
Councils that take part in the scheme will be able to utilise the government's "one-stop shop" created to manage complex building projects between different agencies. They will also get access to assessment tools and documents used in the state system, and help from senior planning bureaucrats to set up their own programs.
The government will also provide direction to state and regional planning panels to help councils "get shovel-ready projects out the door, faster".
"The NSW government has developed new programs and processes to fast-track the state's planning system during the pandemic, and we want to share what we've learnt with councils so they can follow suit," Mr Stokes said.
"We're doing what we can to turbocharge the housing and construction industries and now we're calling on local government to do the same."
The first councils in Sydney to adopt the scheme are Blacktown, The Hills Shire, Parramatta, Camden, Campbelltown, Canterbury-Bankstown and the Northern Beaches.
Councils in Shoalhaven, Wagga Wagga, Albury and Port Stephens have also signed up to the program.
The government introduced its plan to speed up assessments of building projects, to create jobs and drive investment, in April. Nearly 50 developments have been identified in the first two tranches of the program.
To that end, Mr Stokes said the program had created opportunities for more than 16,000 jobs and unlocked almost $11 billion worth of economic investment across NSW.
Once a construction project is selected for the program, it has to be determined within four weeks.
The state government's scheme was welcomed by developers and property executives. Labor's planning spokesman Adam Searle warned at the time that "'fast-tracking' must not be code for simply faster approvals without proper evaluation or scrutiny".
Article Source: Brisbane Times
Image Source: Background photo created by mindandi