A social housing building program could help save thousands of constructions jobs and drive NSW's post-pandemic economic recovery.
The NSW Council of Social Services will make this case to the Berejiklian government, after commissioning research into the economic impact of plummeting overseas migration and its link to rising homelessness.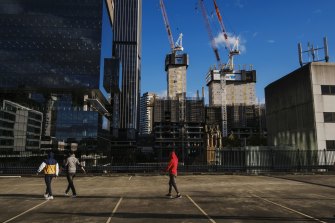 The report by Equity Economics estimates as many as 85,000 constructions jobs could be at risk as a result of a forecast drop in migration to Australia of up to 85 per cent in 2020-21.
It calculates this could translate to reduced demand for housing of 38,000 units over the next 18 months, but contends that this could be ameliorated by a government-led social housing boom.
"Five thousand additional units of social and affordable housing would cost $1.88 billion in 2020-21 and would support 18,000 construction jobs," the report states.
"This investment can be spread out across NSW, generating employment in regional economies."
It is not the first report to recommend this path to government, with the NSW Land and Housing Corporation also proposing a "housing-focused stimulus package" would accelerate development and boost employment.
In a cabinet briefing paper, the agency recommended spending $500 million on unsold apartments and "shovel-ready projects", which would enable the construction of 300 social housing dwellings to begin within 16 weeks.
Council of Social Services chief executive Joanna Quilty said a social housing boom would meet the "twin policy goals" of stimulating the economy and providing permanent homes for the vulnerable.
"We think this should be a key part of the economic recovery in NSW," Ms Quilty said.
"We know the residential construction industry is the engine room of economic growth in NSW and it does stand to significantly decline and there are going to be job losses in that industry."
The report estimates a rise in unemployment to 10 per cent by the end of the year, as foreshadowed by NSW Treasurer Dominic Perrottet this month, could send up to 8000 more people into homelessness.
Before COVID-19 hit, there were about 50,000 people on the NSW social housing waiting list.
Homelessness NSW chief executive Katherine McKernan praised the government's decision to provide temporary hotel and rental accommodation for more than 2000 people during the crisis, costing $34 million.
But she said there was no longer-term plan for them once the health orders are lifted.
"We are struggling to develop exit plans for everyone (in temporary accommodation) because we don't have any answers," Ms McKernan said.
"We urgently need further investment that provides permanent accommodation, so we don't see people falling back into homelessness."
Mark Degotardi, chief executing of Community Housing Industry Association, said the government could act "decisively" with the reassurance that "their investment will yield economic, employment and social benefits now and in the longer term."
Article Source: The Sydney Morning Herald
Image Source: People photo created by freestockcenter – www.freepik.com